Summer Soirée
Songs for a Spring Evening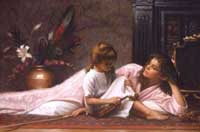 Mothers' Day Music
Music at the Limes
Past Concerts
7pm, Sunday 21st May
Louisa Fuller and Charlotte Brennand of The Millbrook Ensemble With music by: Boulanger, Brahms, Elgar, Massenet, Rebecca Clarke & Clara Schumann.
6pm, Sunday 23rd April
Sopranos Becky Ramsurn and Lisa Gifford Guy sang a delightful selection of arias, songs and duets by Purcell, Mozart, Gounod, Copeland and Barber, with piano accompianment by James Winkley. Many thanks go to our generous performers who donated their time and talents and also, to the audience who donated nearly £200 to the Exuberant Trust.
3pm, Sunday 26th March
Huge thanks must go to Hannah Laurens - violin and Tom McCoy - piano who provided a special Mothers' Day treat with their concert featuring sonatas by Mozart, Dvorak, Schumann and William Kes. We are also extremely grateful to the generous audience who donated £335 to the Exuberant Trust.