---

The Exuberant Trust is a local charity which supports young people in Oxfordshire who are developing their interest in the arts: music, drama, dance, art & crafts, multi-media, etc. and who are in need of a small one-off grant (maximum £500) for a specific project or activity.
The Exuberant Trust raises funds by organising concerts throughout the year and from donations received from its supporters. Successful applicants are encouraged to take part in concerts and other activities in support of the Trust.
Next Concert:
Music at The Limes
7pm, Sunday 4th September
Castles and Castanets
Reflections of Iberia
William Leigh Knight - baritone
John Collis - piano
Programme to include music by:
Ravel, Lorca, Poulenc, Ibert,
Montsalvatge, Berkeley, Sarcich & Lara
The Pavilion at The Limes
Standlake, Oxfordshire OX29 7RH
Concert Programme
~ ~ ~ ~ ~
Music at The Limes events are free and last for one hour.
Donations to the Exuberant Trust (preferably Gift-Aided)
are gratefully accepted, so please bring your cheque books
or you can donate securely online here.
~ ~ ~ ~ ~
Summer and Autumn Season 2016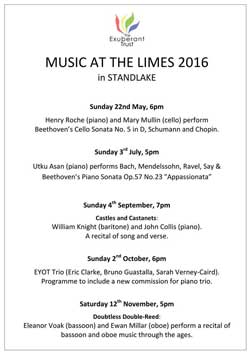 We are extremely grateful to all of our Music at The Limes
concert artists, who perform in aid of the Exuberant Trust for free.
Donations received from the Limes concerts directly fund our small grants programme which exists to support young people (under 30 years)
in Oxfordshire with individual projects, related to any of the arts.
Applications for grants are welcome.
A message from the
Bacc from the Future Campaign Team
The Department for Education have announced plans to make a new English Baccalaureate (EBacc) a headline league table for schools, and give it a bigger role in Ofsted inspections.
The Government expect at least 90% of pupils to take it. This would make it all but compulsory for many students.
The EBacc requires pupils to study a minimum of seven GCSEs, but includes no creative subjects; it risks forcing art, dance, design, drama and music and other creative subjects out of schools.
We need your help to save creativity in schools:
Things you can do to support the campaign:
Join the campaign today
'Don't Stop The Music' Petition
James Rhodes' fight to save music education
Concert Pianist James Rhodes has started a petition which will be presented to the Department of Education, making the case that all children benefit from a high quality musical education and should all be able to learn a musical instrument at school.
Read more about and support this important campaign by adding your
name to the petition here.
Featured Fundraising Product

Albions Glorious Ile ~ £14.99

A set of four historic hand-colouring book of William Hole's fantastical 17th century maps of England and Wales.

Available to buy online here

Albions Glorious Ile is a fundraising publication by the not-for-profit organisation Flash of Splendour and every penny will go towards their upcoming projects working with the creative arts to empower children disadvantaged by diabilities, social positioning and economic hardship.









Commedia

Read about the Commedia Project, commissioned by The Exuberant Trust in memory of Sebastian Graham-Jones.

David Horn in Commedia,

photographed by Bill Cooper.
The Exuberant Trust - Registered Charity No. 1095911
---
Photograph © Chris Andrews Publications Ltd.
23 August, 2016